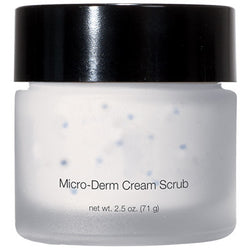 - Skin resurfacing scrub
- Softens & polishes
- For mature skin
What It Is
Gently and effectively resurfaces skin. Smoothes, softens and polishes skin for a healthy, radiant complexion.Paraben-free.
What's Inside
Polished Corundum Crystals (Aluminum Oxide) resurface and refine skin texture; a finer-sized crystal than those used with micro-dermabrasion equipment. Sunflower Seed, Jojoba Seed & Macadamia Seed Oils provide a lubricating base that cushions crystals. Phospholipids enhance hydration. Vitamins A, C & E are antioxidant vitamins that help to protect cells from free radical damage.
How To Use
Use as needed. Gently massage onto moistened skin using circular motions. Avoid the eye area. Rinse thoroughly with warm water.