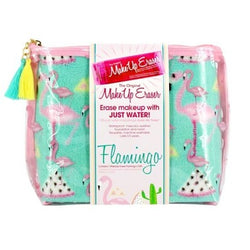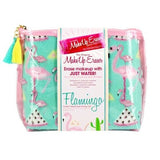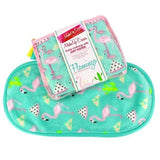 DESCRIPTION
Flamingos, cactus and watermelons make this print a one of kind that you don't want to miss.  Comes in a custom MakeUp Eraser cosmetic bag with flamingo prints.  Traveling? #flyingflamingos for a chance at a regram! This includes waterproof eyeliner and mascara, HD makeup and much more 

(measures 15.5" x 7.5"). Removes all makeup, including waterproof, with just water. Antibacterial, reusable, & machine washable (lasts 3-5 years/up to 1,000 washes). 
BENEFITS
No chemicals - dermatologist recommended. Reusable, antibacterial, machine washable (lasts 3-5 years/1,000 washes).
SUGGESTED USE
Thoroughly soak in warm water & remove makeup in circular motions. Rinse & hang dry. Machine wash about 1x a week.