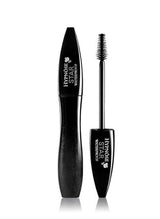 VOLUMIZING WATERPROOF MASCARA - CUSTOM VOLUME
Create show-stopping star eyes with our ultra-glam waterproof mascara and dual-sided brush, leaving lashes looking volumised and curled.

A "Black Diamond" shade dresses lashes in a deep and glamorous intensity for 24 hour wear.

HOW TO APPLY HYPNOSE STAR WATERPROOF
Start the mascara application by gently pressing the flat part of the brush onto the roots of the upper lashes, to release some product and define the eyes. Then turn the brush to use the side with longer bristles and then glide it from the roots to the tips in a zigzag movement to ensure the texture is spread evenly. Use as much mascara as is needed to thicken and taper the lashes.

Steps:
1. Start in the centre of the lash fringe.
2. Then apply mascara to the outer and inner corners of the lash fringe.
3. Repeat these steps for more volume.
4. Finish the application on the lower lashes working outwards from the centre of the lash fringe.